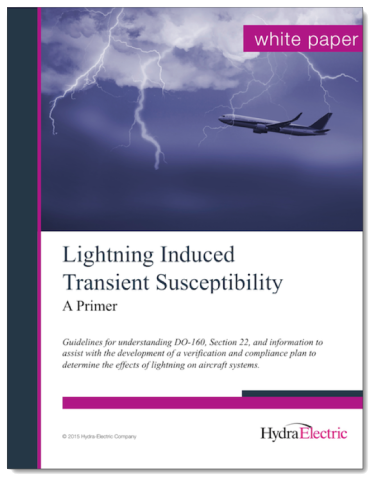 LIGHTNING INDUCED TRANSIENT SUSCEPTiBILITY WHITE PAPER
Guidelines for understanding DO-160, Section 22, and information to assist with the development of a verification and compliance plan to determine the effects of lightning on aircraft systems.
ABSTRACT
Lightning presents a frequent and inevitable risk to commercial and military aircraft. All electronic or electrical systems in an aircraft must go through a rigorous process to determine if any lightning induced failure may create a risk to the aircraft. The most widely referenced test specification in the military and aerospace industries for determining "Lightning Induced Transient Susceptibility" is RTCA DO-160, Section 22. Understanding the different waveform sets and certification levels is critical to planning how systems will undergo testing in efforts to meet compliance.
Download the white paper by filling out the form below