Aerospace Temperature Transducers
---
Standard and Extended Range TEMPERATURE SENSOR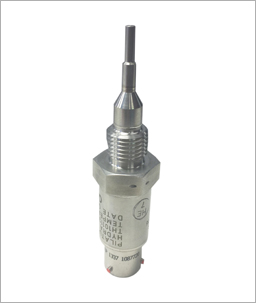 Note: Product image shown represents just one of the many envelope options we can offer. We can design a custom envelope to fit your needs.
Operation
Accuracy
IEC-751 Class A or B
Resistance @ 0

°C

100 ohm or 1K ohm
Max. Current
2 mA recommended operating max (resistance output)
Recommended Current

1 mA max (resistance output)

Electrical
RTD resistance output or amplified voltage or 4-20 mA output
Environmental
Temperature Range
-100°C to +250°C standard, +300°C extended
Survival Temperature

-100°C to +500°C media temp 

Vibration
5 to 2000 Hz up to 20 g's
Shock
100 g's
Service Life
1000 temperature cycles
Weight
5 oz. (approx.)
Description
Temperature measurement utilizes a platinum RTD. Both wire wound and thin-film RTDs are available. Thin-film RTDs are used in applications requiring durability under high vibration, or where physical size is limited. The RTDs are potted into a stainless steel cover for strength and quick response.
Units are available with a wide range of welded connectors. Standard and fully custom interfaces are available. Body size and shape is suited for a wide variety of applications. Sensor can be used with any media compatible with stainless steel.
Sensor Inquiry
Please contact us to discuss your sensor needs so we can determine how we can best address them with our cutting-edge technology.
Product Updates & News
Receive news of product updates, aerospace industry events, white papers and important announcements. You can unsubscribe at any time.