Unlike other sensors, with Hydra-Electric you can . . .

SOLVE PROBLEMS YOU DIDN'T KNOW COULD BE SOLVED
SURVIVE high speed impulses
SURVIVE high cycle counts of one million or more
SURVIVE pump ripple
ELIMINATE pressure spike damage
AVOID burst diaphragms
AVOID broken wire bonds
---

TAILOR TO ANY OPERATING PARAMETER
Accuracy
Sensitivity
Output format Input/output impedance
Amplified/non-amplfied
EMC (Mil-STD-461, D160)
---

ACHIEVE LINEAR ACCURACY OVER A WIDE TEMPERATURE RANGE AND BETTER MANAGE YOUR ERROR BUDGET
No need to compromise on the zero and span error at extended temperatures. For either amplified or millivolt output, sensor error brands are flat throughout all temperatures.

---

ACHIEVE NEAR INFINITE LIFE
In materials science, fatigue is the weakening of a material caused by repeatedly applied loads. This cyclic loading can cause progressive structural damage and failure even if it is well below the ultimate strength of the material.
In these high-cycle fatigue situations, performance is commonly characterized by the material Stress-cycle (S-N) failure curve, also known as a Wöhler curve. The graph below shows the magnitude of a cyclic stress (S) or force allowable to achieve the number of cycles to failure (N).
At Hydra-Electric, we size the sensor for the operating pressure range; stress can then be limited to achieve an almost infinite number of pressure cycles.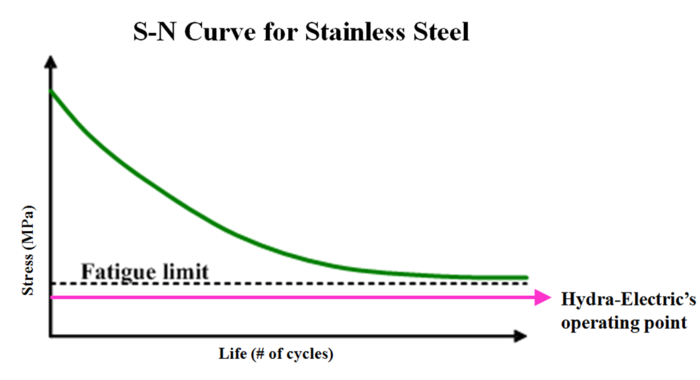 Sensor Inquiry
Please contact us to discuss your sensor needs so we can determine how we can best address them with our cutting-edge technology.
Product Updates & News
Receive news of product updates, aerospace industry events, white papers and important announcements. You can unsubscribe at any time.