Burbank, CA  — Hydra-Electric Company, a trusted provider of breakthrough sensing technology for the aerospace industry, was featured in Aviation Business Daily,  a publication showcasing news from the 2015 National Business Aviation Association (NBAA) convention in Las Vegas.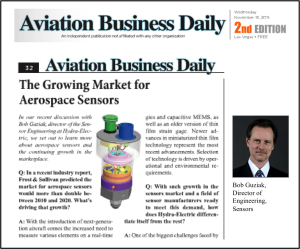 In the article, "The Growing Market for Aerospace Sensors," Aviation Business Daily interviews Hydra-Electric's director of sensor engineering, Bob Guziak, about sensor technology and the growing demand for sensors in the aerospace marketplace.
"One of the biggest challenges faced by sensors within critical aircraft systems," said Bob Guziak, "is the ability to maintain accuracy over extreme conditions and extended usage. We have developed innovative designs to address these and other issues. What we've learned from customers is that Hydra-Electric has been able to solve problems their engineers didn't think could be solved. For example, Hydra-Electric builds sensors with the ability to survive high-speed impulses, pump ripple, or high pressure cycle counts theoretically into the billions. We've been able to eliminate common failure modes such as pressure spike damage, burst diaphragms, broken wire bonds and media leaks."
To read the full interview, follow this this link:  The Growing Market for Aerospace Sensors
Hydra-Electric is a trusted provider of reliable technology in sensors and switches in the aerospace industry. Its proven solutions include: pressure, temperature and multi-function sensors; and pressure, temperature and liquid flow switches. Hydra's high performance sensing technologies are able to address problems which were previously thought to be unsolvable, including: pressure-spike damage, pump ripple, high-speed impulses, burst diaphragms, and broken wire bonds to name a few.
The Company has been an innovator in the aerospace industry since 1948 when it introduced the Negative Rate Disc Spring design that remains the global standard today for aerospace pressure switches. Hydra-Electric's products are found in demanding military and commercial applications, including fixed and rotary wing aircraft, missiles, space launch platforms, ships and submarines, armored vehicles and UCAVs.