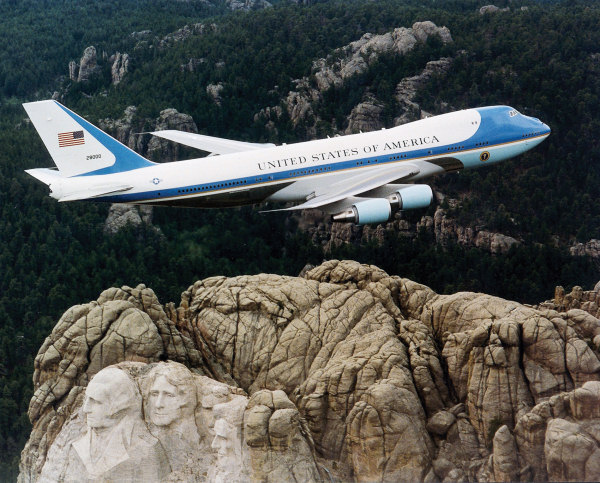 Air Force One.  In honor of Presidents Day, we were curious about the history of the President's airplane and did a bit of research to learn more.
Actually, "Air Force One" represents the air traffic control call sign, and applies to any Air Force aircraft carrying the U.S. President. This unique call sign for the chief became critical following an incident in 1953 when an Eastern Airlines commercial flight [8610] accidentally entered the airspace of President Eisenhower's aircraft [Air Force 8610].
President Franklin D. Roosevelt was the first to fly in a non-commercial aircraft specifically converted for exclusive use of the president, an action stemming from increased security concerns. In February 1945, Roosevelt was transported to the Yalta Conference in a Douglas C-54 Skymaster, nicknamed "Sacred Cow."
Since then, the presidential fleet has included:
Douglas DC-6 Liftmaster — named Independence by President Truman for his hometown.
Two Lockheed C-121 Super Constellations — named Columbine II and Columbine III  [Eisenhower]
Two small Aero Commanders [Eisenhower]
Three Boeing 707s (VC-137) — SAM (Special Air Mission) 970, 971, and 972 [Eisenhower; the first presidential jet aircraft]
Boeing 707 (VC-137) — SAM 26000 [came into service during the Kennedy administration; hosted President Johnson as he took the oath of office; remained in service to U.S. presidents until 1998]
Boeing 707 (VC-137) — SAM 27000 [served presidents from 1972 to 2001]
Two Boeing 747 (VC-25A) — SAM 28000 and 29000 [From 1990 to today]
Today, Air Force One is the common reference for specific planes designed, outfitted and designated for transporting the president. Last month the Air Force announced that the new aircraft to serve the U.S. leader will be the Boeing 747-8, slated to begin service in 2017.
And then there is Marine One, the call sign for United States Marine Corps aircraft transporting the president, and usually representing helicopter flights. In 1957, President Eisenhower was the first president to put the chopper to use in a Bell UH-13J Sioux.
[Sources include whitehousemuseum.org; whitehouse.gov; Wikipedia]