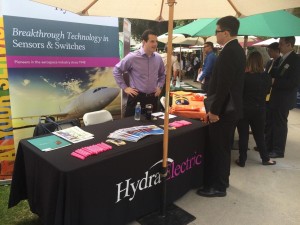 Hydra-Electric will be at the UCLA Engineering School Career Fair on Wednesday April 19, 2017. We're adding to our pool of talented engineers working on breakthrough sensing technology for the aerospace industry.
We are specifically focused on mechanical design engineers.
Place: Wilson Plaza, UCLA Campus
Wednesday, April 19, 11am – 4pm
Preparation details are on the Career Center website, including some Career Fair Do's and Don't's:
For a list of open engineering positions and more information on careers at Hydra-Electric, go to http://hydraelectric.com/about/careers/.
Hydra-Electric has developed breakthrough pressure-sensor products that are delivering strong growth in the aerospace industry, which is expected to accelerate in the next several years. We are a small, entrepreneurial company in Burbank, CA. We are fast and nimble. It is a modest work environment that is quite different from large corporate and/or government/military enterprises. Come talk with us on Career Day and learn more about careers at Hydra-Electric.