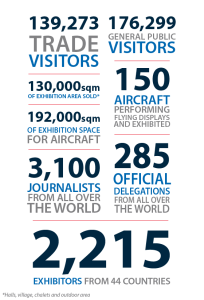 Sometimes numbers tell the best story.
We definitely got excited when we saw this infographic from the International Paris Air Show displaying a boastful bounty of numbers from the 2013 event. It is truly the largest aerospace trade show in the world. With over 300,000 visitors and 2215 exhibitors [that's us!] representing 44 countries, these numbers confirm that this June 15-21, the #ParisAirShow is the place to be for the aerospace community.
We understand that not everyone can be there. That's why we'll be tweeting updates during the event. Be sure to follow us on Twitter.
No doubt that many of the aircraft on display or flying/performing will feature our breakthrough sensing technology…
How about these numbers?  Find us in Hall 5, Stand C-249
Want to schedule an in-person meeting? Let us know your best days/times here.