Flight Daily News, the FlightGlobal publication showcasing news from the Paris Air Show, featured a news story on Hydra-Electric's latest pressure switch product introduction.  The article quotes Tim Burmood, Director of Sales, discussing how this new design addresses complaints heard from our customers. 
The article, "Impressing the Switch Market," reads: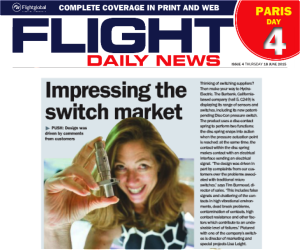 Thinking of switching suppliers? Then make your way to Hydra-Electric. The Burbank, California-based company (Hall 5, 249) is displaying its range of sensors and switches, including its newest pressure switch. The product uses a disc-contact spring to perform two functions: The disc spring snaps into action when the pressure actuation point is reached; at the same time, the contact within the disc spring makes contact with an electrical interface sending an electrical signal.
"The design was driven in part by comments from our customers about problems associated with the micro switch. These problems have been plaguing our industry for a long time," says Tim Burmood, Director of Sales. "This includes false signals and chattering of the contacts in high vibrational environments, dead break problems, contamination of contacts, high contact resistance and other factors that contribute to an undesirable level of failures."
Click here to view the publication. The article on Hydra-Electric appears on p. 20.