DID YOU KNOW THAT in-flight aircraft are struck by lightning approximately once every 1,000 flight hours?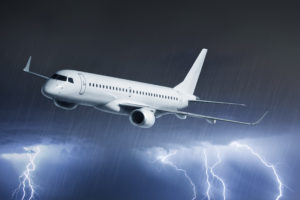 All electronic or electrical systems in an aircraft have to undergo a rigorous process to check for potential lightning induced failure that may create a risk to the aircraft. The most widely referenced test specification in the military and aerospace industries for determining "Lightning Induced Transient Susceptibility" is RTCA DO-160, Section 22.
Our latest breakthrough sensing technology successfully meets DO-160 Level 5 requirements in preliminary testing procedures. Level 5 involves the most severe electromagnetic environment.
These new sensor designs offer critical advantages for landing gear systems and systems in other unprotected regions of an aircraft. Additionally, usage of this latest technology elsewhere in the aircraft simplifies matters, because system designers can be certain that lightning susceptibility will not be an issue.
"We know of no other sensor technology on the market that can meet this highest level of lightning protection defined per DO-160," said Bob Guziak, Director of Sensor Engineering at Hydra-Electric. "Hydra's technology will make a real difference for critical systems in unprotected areas of an aircraft. We look forward to the product qualification testing in early 2017."
We've just exhibited Hydra's sensor and switch product innovations at the 2016 National Business Aviation Association – Business Aviation Convention & Exhibition (NBAA-BACE).
See related press release>>>