Hydra-Electric's newest white paper assists aerospace engineers addressing the potential hazards of radiation to aircraft electronics at high altitude flights.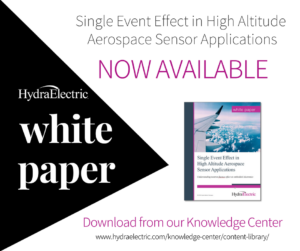 The white paper will be introduced at the Farnborough International Airshow (#FIA2018), where Hydra-Electric is exhibiting July 16-20, as part of our 70th Anniversary celebration. See our press release >
The paper discusses optimum component selection, and how an accurate estimation can be calculated to determine the effects of radiation on aerospace electronics and thereby employ solutions to eliminate or reduce Single Event Effects.
"As aircraft fly to higher altitudes, they have decreased protection from increasing levels of radiation," said Bob Guziak, Director of Sensor Engineering at Hydra-Electric. "Our concern for aircraft at these upper elevations is the effect high-energy neutrons have on the performance of electronics. Our engineers at Hydra-Electric find solutions to minimize or eliminate potential upset from these Single Event Effects."
Single Event Effect in High Altitude Aerospace Sensor Applications  
ABSTRACT
The effects of solar generated particle radiation on high altitude aerospace electronics have come into greater focus over the last decade. Of primary concern are high altitude (30,000-70,000 feet) neutrons where the protective atmospheric absorption seen closer to ground level is not present. These high-energy neutrons, having no electrical charge, are a consideration for kinetically-induced electrical upset. 
The name given to these effects is Single Event Effects or SEE. The single event occurs where the high-energy particle collides with the structure of an electronic silicon device. The collision affects the function of the circuit through transient, discrete, or permanent atomic level interaction. While these upsets may be rare, with millions of flight hours occurring each day, disruptions have been reported in the performance of electronic devices in aircraft incidents traced to the effects of this radiation.
From maps of high altitude neutron fluence available from NASA, and the knowledge of normal aircraft flight hours, aerospace electronics can be designed with statistically known operating effects to minimize any SEE upset.