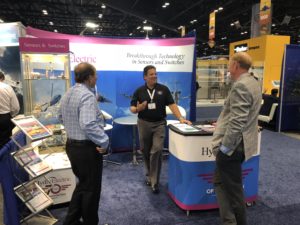 Visitors to the Hydra-Electric booth at NBAA-BACE kept our Director of Engineering and Sales, Tim Burmood, busy this year. The increasing demand for sensors in aircraft has led to a surge in interest for Hydra-Electric's breakthrough sensing technology.
"People are looking for answers in the sensor market," Tim said. "They're trying to develop a better understanding of what's essential. With continuous health monitoring on modern aircraft, the precision of sensors has become imperative."
We continued to celebrate for our 70th anniversary at the event with some giveaways, and by showcasing our latest innovations in sensor and switch designs. Tim said it was nice to be located near some of our strong customers. Always good to see familiar faces and to meet new ones.